This is a sponsored blog; while the views expressed here were genuinely mine, consideration was paid to me by Bays® English Muffins to review this product.
Breakfast in Bed
Days need to start off well, don't they? If you have a terrible morning with a horrible breakfast, the rest of the day is just kind of…spoiled. While this is true for everyone everyday, perhaps getting off to a great start on Mother's Day is more important than all the rest. Moms need a break. Maybe some "me time" for themselves. Some peace and quiet even. Isn't that what Mother's Day is all about? Showing mom that we lover her and appreciate all that she does day in and day out for our families. That's more important than any flowers or chocolates could be. Showing our mothers all the feels on this special day is essential. 
Start things off right and treat the Moms in your life to Breakfast in Bed on Mother's Day. Start cookin' something new and tasty…Bays® English Muffins delicious Mother's Day recipes!!! What could be better than breakfast in bed? Correct…nothing.
Bays English Muffins
Bays English Muffins are really tasty and have a great texture. Bonus one, they are split and open easily with no mes or fuss. Bonus 2, they are the perfect vehicle for sandwiches and snacks of any kind. Really anything could work. Be creative! Sweet, savory, pizza, dessert. Who knows? Let your creativity run free. Bays English Muffins are also the perfect size! This Mother's Day, I'm going for a simple egg sandwich that's super fresh, very bright, nicely creamy, and packed with protein. It's my Egg and Avocado sandwich with some super sweet grapes.
Egg and Avocado Breakfast Wake-Up
Ingredients
1 Bays English Muffin
2 Eggs
1/2 Avocado
Lettuce of your choice
Drizzle of Olive Oil
Salt to taste
Black Pepper to taste
Oregano to taste
Red Pepper and/or Hot Sauce to taste

Directions
Toast the Bays English Muffins to your liking
Prepare the eggs to your liking. I prefer fried eggs well done to egg sandwiches.
Wash and remove 2-3 leaves of lettuce. I used iceberg in this, but I generally like all kinds including romaine and arugula.
Scoop out the avocado and place it on the muffin. You can mash it like a butter or simply place it on the muffin.
Drizzle olive oil onto the other side of the muffin
Add salt, black pepper, red pepper (or hot sauce), and oregano to taste
The creaminess of the egg and avocado really pair well with the brightness of the lettuce, spices, and oil. It's a great pairing and has a different taste than the typical egg sandwich with egg and meat. Don't get me wrong, I love my bacon, egg, and cheese sammies! But this is light and fresh and maybe a tad better for you. It's great way to start that day. And the Bays English Muffin really pairs well with it all.
French Toast Recipe Video
If you're not feeling the egg and veggie sandwich above, there are so many amazing breakfast/brunch and lunch/dinner recipes on the Bays site! Check out this amazing Bays English Muffins French Toast Recipe for one!
A Mother's Day Sweepstakes
To make Mother's Day a little brighter, you can enter for a chance to win a $200 Spa gift card every day during the What Moms Want Bays English Muffin event. That will certainly make all the moms in your life happy!  No purchase necessary.
Enter the sweepstakes from April 24 to May 13, 2018 on Bays® Facebook page at http://bit.ly/2GsKdVg.
Official rules are at bays.com.  And, don't forget to 'LIKE' Bays' Facebook page, to share your Bays® English Muffins creations and pick up some new ideas.
Find Out More
There are four different varieties of Bays® English Muffins to use in your recipes or with your favorite spreads: Original, Sourdough, Multi-Grain and Honey Wheat. Find them in your grocer's refrigerated case next to the eggs – not in the bread aisle. Stock up on them to make your Mother's Day special with some awesome new recipes!
To find out more, check out: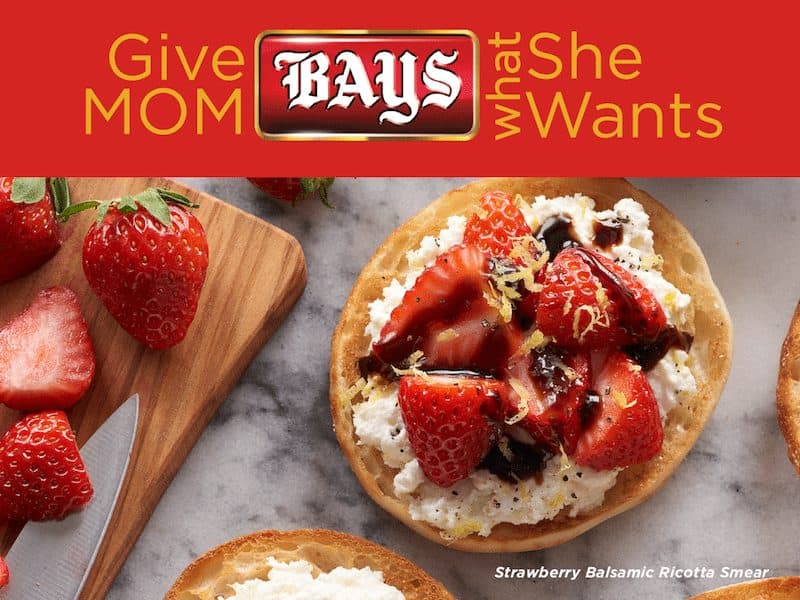 Please follow, like and share:
Give Mom Some Relaxing Me Time This Mother's Day
was last modified:
April 24th, 2018
by